Designing a new home should be fun and exciting, not just picking a standard design out of a brochure. Work with us at Pride Home Designs to create a custom designed home that is going to suit you and your family's lifestyle!
Design Session
Every new project with Pride Home Designs starts with an obligation free design session. Here we will take in as much as possible about your proposed project, your lifestyle, and any site constraints your particular block of land may hold. Discussing your likes, dislikes, your lifestyle and learning how you live in your home is one of the major keys to producing the perfect design for someone. Based on this meeting we will produce a scope of works and submit you with a quote on producing the designs and documentation for your proposed new project.
New Homes
Pride Home Designs strives itself on designing a home that suits both you and your specific block of land. None of our designs are recycled, reused or chosen from a standard range of plans. Each and every design is original and based on your particular needs and wants along with the demands of your specific block of land. We treat every job this way, no matter the size or the budget. We have extensive experience in designing all forms of new homes including but not limited to;
Smaller designs to suit first home owners and investors
Your dream retirement home
Small lot homes
Single level to multilevel and split level homes.
Duplexes, Units and Town Houses
All Styles of Homes from traditional to modern and everything in between (Check out our galleries)
Traditional character zoned.
Covenanted Estates
Duel Occupancy homes, Including Auxiliary Units and Granny Flats.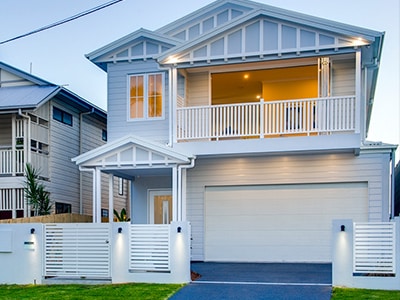 All Types of Sites
Every site is different. Factors such as size, aspect, flat, sloping, will influence a design. With experience in all forms of sites from the inner city small lot blocks to acreage, flat blocks and extremely steep, no block is too small, too big or too difficult for Pride Home Designs. (We actually love designing on the difficult sites!). Our objective with difficult sites is to work with the existing sites conditions. This also gives the design of the house character. For example, a split level home stepped to suit the natural fall of the land, as opposed to huge earthworks and unsightly oversized retaining walls chewing up valuable land space just to create a flat building pad.
Extensions, Renovations, Lifts, Patios and Deck
Pride Home Designs also have experience in all forms of renovations and additions to existing homes. Anything from new patios, decks, carports, additional rooms, or a complete house lift and build in under, Changes to Pre 1946 / Pre War Homes, and more, we have done them all. We treat our extensions and renovations in the same way we work a new build. This starts with a site meeting and design session to look over the house and discuss your vision of changes. From here we will do a complete site measure of the existing structure to begin working on the proposed changes.